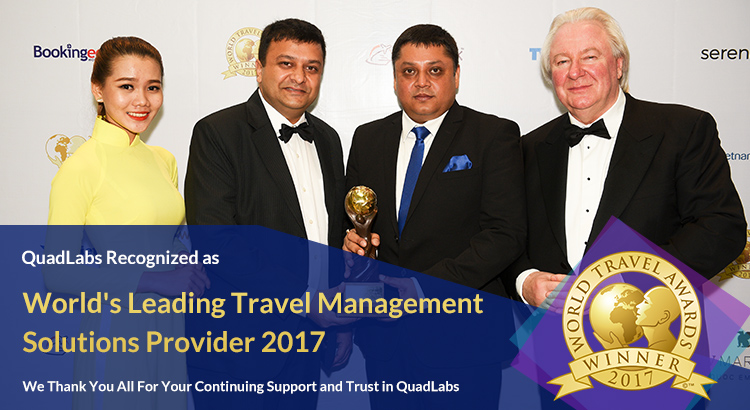 QuadLabs recognized as World's Leading Travel Management Solutions Provider at World Travel Awards 2017
QuadLabs Technologies world leader in Travel Technology, emerged as the winner of the 'World's Leading Travel Management Solutions Provider 2017' by World Travel Awards. The honour was unveiled in the prestigious ceremony held at JW Marriott Phu Quoc Emerald Bay, Vietnam on Sunday, 10th December, 2017.
World Travel Awards celebrates its 24th anniversary year in 2017. It is the most prominent fraternity recognizing and rewarding the excellence across all key sectors of the travel tourism ; hospitality industry. It invites over 650,000 individual votes from travel professionals and high-end tourism consumers.
QuadLabs has continuously distinguished itself by focusing on delivering world-class Technology products to the travel industry. Their products have significantly contributed in improving the business processes, optimizing revenue stream and enhance customer service experience. With over 90 midsize to large scale esteemed customers spread across 26 countries which include Asia, Middle East, Latin America, Europe and Africa. For the past 11 years XChange ERP platform has evolved adding new features and functionalities to improve and adapt changes based on specific geographies benefiting the global travel enterprises.
Travel management system empowers travel Management Company to automate their process to fulfill travel business need. Travel agent can manage corporate profile, corporate policy compliances, approval-workflow, and corporate credit and deposit policy. The system can also generate various reports for corporate and supplier reconciliation. It enables travel businesses to reduce costs, manage compliances and provide corporate travelers a user-friendly self-booking tool as well, whilst fulfilling their global business travel needs. It helps to manage the multitude of hierarchy and workflow they have within their companies, at the same time ensuring all their travel related needs are fulfilled through a one-stop solution. System also provides expense management to business travelers to manage post trip expense and same can be submitted to concerned department for approval.
It also has mobile app Travog for corporate employees, through which they can create the booking and manage their pre and post travel expenses. The app offers ancillary products like Uber (for cab booking), meeting rooms, lounges and last minute hotel booking into it. The app is available on both iOS and Android platform. The system has NDC capability through which it has also integrated directly with the airlines.
"Our corporate booking tool gives you total control of your corporate travel program, by delivering the right travel content your business travelers need while providing you with policy enforcement, workflow management, robust global capabilities and increased visibility through real-time reporting. Getting this award shows a consistent growth in our technology offerings and the trust from our customers ; partners." Said the CEO Mr. Gaurav Chiripal.

QuadLabs Technologies headquartered in India with office in Brazil and UAE, is a premier travel technology company with a focus on delivering world-class technology products to the travel industry. The Product offering include B2C Retail Sale, B2B Reseller, Tour Operator and Business Travel, which has been especially designed to meet the demands of the ever-evolving travel industry and providing the travel companies with a faster way to automate their business.
;