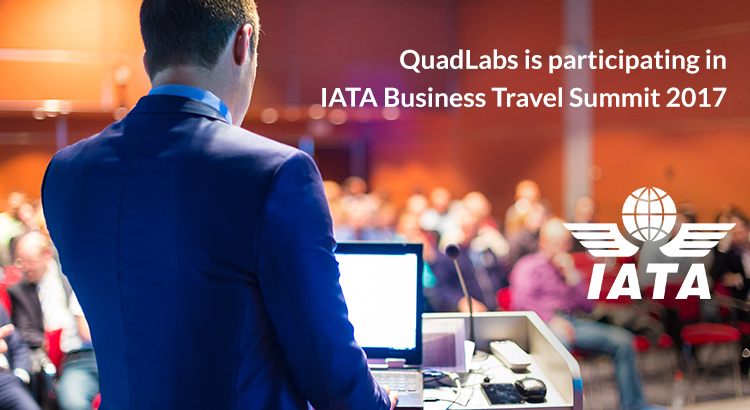 QuadLabs is participating in IATA Business Travel Summit 2017
QuadLabs, the world's leader in travel technology confirms its participation at the IATA Business Travel Summit 2017 scheduled to be held in IATA Geneva Conference Center, Geneva, Switzerland between May 30th-May 31st, 2017.
IATA Business Travel Summit 2017
On 30th and 31st of May IATA would host the IATA Business Travel Summit which brings over 100 representatives from a spectrum of Travel Buyers, TMCs, airlines and IT providers to an interactive forum focused around the value of NDC and thee change it can bring to Business Travel. Highlights of this 2nd edition will include views from different value chain members around NDC and retailing in business travel. IATA will also reveal the outcome of a 2-day session were a small group of visionary buyers brainstormed new airline products and services enabled by the NDC standard to articulate a corporate vision for the industry around NDC-enabled solutions. It's a summit designed to build the future of airline retailing together for the business travel value chain.
QuadLabs Technologies is a pioneer in providing superlative travel technology solutions with its strenuous efforts. QuadLabs Technologies have undoubtedly offered reliable travel solutions in the shortest time possible to the travel companies who wish to automate their travel business outstandingly and fulfill their customer needs. QuadLabs Technologies will talk on "what NDC can enable", "how TMCs ; Corporates might leverage content to their benefit using the NDC" and "how corporate can book directly with NDC in Travog." Travog is the first ever on-demand Travel ; Expense management system for businesses with pre-book policy compliant system with an internal self-booking tool. The USP is the integrated Travel marketplace of content procured from global travel suppliers and TMCs. The internal engine connects to various GDSs, Supplier system and content providers to provide comprehensive set of travel deals and corporate fares in the single system. Travog mobile app works as a travel companion providing various location based services around the business travel needs. It helps to manage the multitude of hierarchy and workflow within the businesses, at the same time ensuring all their travel related needs are fulfilled through a one-stop solution. System also provides expense management to business travelers to manage post trip expense and the same can be submitted to concerned department for approval.
QuadLabs Technologies empowers Business Travel, Tour Operator, Retail Sales/ OTA and B2B Reseller/ Whole seller globally.
QuadLabs Technologies is headquartered in India with sales offices in Brazil and UAE is a premier travel Technology company with a focus on delivering world-class technology products to the travel industry. We Specialize in intelligent solutions which have a high degree of adaptability to distinct business processes within the travel domain. Our product is a proven platform with several deployments across Europe, Asia, Middle East, Australia, Africa and Latin America and is highly adapted by each market.
;