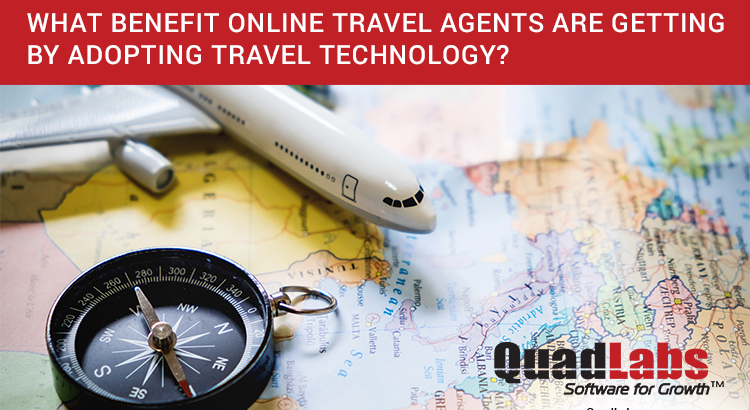 What benefit online travel agents are getting by adopting travel technology?
Technology has changed the way how business operates in last few years. Especially after the introduction of the internet and smartphones, it has taken a giant leap towards reaching out more audience and incrementing revenue. When it comes to travel, technology has played a very important role in magnifying the travel industry. With an online booking portal, an extensively large base of potential audience can access travel agents to book their preferred travel products. This is the main reason more and more travel agencies are adopting travel technology in order to enjoy the several benefits which includes growth in sales. QuadLabs is one of travel technology providers who offers industry focused and target oriented technology to Online Travel Agents to enhance their business.
1. Custom Travel: By acquiring reliable online travel booking portal, Travel Agents can offer the customers with all sorts of information they need to plan and book their travel. Traveler can easily search for their preferred hotels and flights to book them at any time from any location. Online Travel Agents will be able to provide customized travel, which would enhance the user experience.
2. Increase visibility: Travel technology allows the travel companies to become more visible to potential customers as people from all over the world will be able to reach their business and explore their travel products. Their reach to customers won't be limited to a certain geographical area and thus, chances of sales will be enhanced greatly.
3. Target only potential customers: One of the main benefits of the online travel agent system is that the company will be able to target their potential audience and not just everyone. This helps the company to reduce their marketing budget and increase their conversion rate.
4. Maintain communication: Travel technology also allows the online travel agents to maintain a strong communication with their customers during and after the tour. It helps them resolve any issues the customers have while travelling ; a feedback after travel, which increase their satisfaction rate. Furthermore, the company can also offer additional benefits to their customers such as discount on next booking. It motivates the user to choose their services again instead of going with a new agent.
5. Easy payment method: Customers want to book travel products in real time and pay online without any fear of fraudulent or theft. Online travel booking portal gives the customers a steady and highly secure payment method that makes them book flights, hotels, car rentals, etc. in real time and save their card details for next transactions so that the customer doesn't need to fill those requirements again and again.
6. Advance Filters: Travel technology helps online travel agents to provide advance search filters to their customer which help them enhance their customer experience and increase sales.
QuadLabs world leading travel technology provider, offering best and most competitive services to online travel agents so that they can target more and more audience with increase in their sales and revenue by building a specialized and user friendly online booking system Their products is a proven platform with several deployments across Europe, USA, Latin America, Asia, Middle East, Australia and Africa and is highly adapted by each market.