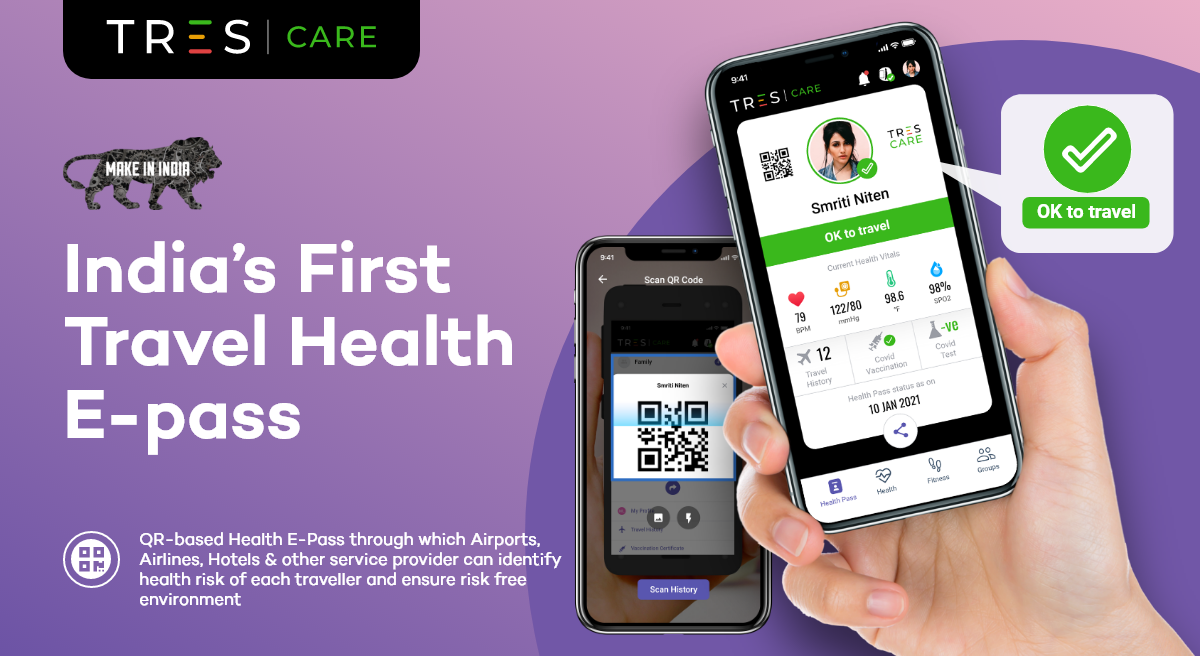 QuadLabs introduces first "Health Travel E-pass" in India
With the pandemic, Team QuadLabs realized the need for a product in the Travel industry which will help in reopening the borders. Team QuadLabs introduces TresCare, AI-Based Health Tracking band and application, which generates the Digital Health E-pass based upon travel history, vaccination certificate, test reports & actual health vitals recorded from medical wearable devices.
It is a QR-based Health e-pass which will provide complete information on the current health status of a traveller to Airports, Airlines, Hotels & other service providers. The health status is generated instantly based on different parameters showing the wellness of the individual. The system takes the readings based upon the pattern of the proactive health vital graphs, vaccination certificates (validated though ICMR), and the covid'19 test reports. The system provides health information on real-time and will identify if the person traveling is safe or not, helping in stopping of spreading of contagious diseases assuring a risk-free environment.
TresCare application is a safe verified digital platform which stores an Individual or a corporate traveller's Health information on an anonymous & encrypted format. Only the travellers have access of their information on their mobile. This can only be shared by the traveller by using a QR code to the relevant government authority. It also provides monitoring services to medical response teams in large enterprises and government institutes.
"We are very excited to launch India's first Health E-Pass. This will help the industry to revive from the pandemic & open the borders for traveller. Our next target is to bring acceptability of this e-pass with various Airlines, Airports and Hotel to make travel easy and seamless." said the CEO Mr. Gaurav Chiripal.
About the Product:
Tres Care app is a free downloadable app available on both android and IOS app stores. It records real time health vital for those wearing a health wearable smartwatch (also sold as an add-on www.tres.in). The app analyses real time data, creates internal subsets of health risks & provides predictive alerts about the health of the traveller. It tracks and records the health vitals including Heart Rate, Blood Oxygen Saturation (SPO2) & Body Temperature using medical grade sensors. This health data along with Travel history, Vaccination certificates & Covid test reports provides an accurate health e-pass instantly. Tres Care also have options for large corporates to incorporate this health e-pass in their existing HRMS, online travel booking apps and employee specific apps.
About the Company:
QuadLabs is a pure play travel-tech provider with a focus on delivering world-class technology products to the industry. The products empower Retail Sales, B2B Reseller, Tour Operator, and Business Travel intermediaries. We understand the need of the travel market in diverse geographies and are uniquely equipped to deliver best in class products with the shortest time to market.
We have achieved industry recognition with 'Middle East's Leading Travel ERP Technology Provider for 2016 & 2017' and 'World's Leading Travel ERP Technology Provider for 2016 & 2017' at World Travel Awards. We were also honoured to get 'Asia Pacific Travel Innovator of the Year' award for our business travel solution by Phocuswright.
Contact:
Mr. Arpit Garg
Arpit.Garg@QuadLabs.com | info@QuadLabs.com | www.QuadLabs.com
720, JMD Megapolis, Tower B, Sohna Road, Sector 48, Gurgaon, Haryana, India
O (IN): +91 124 663 6999, (US): +1 646 362 2203, (UK): + 442036084769