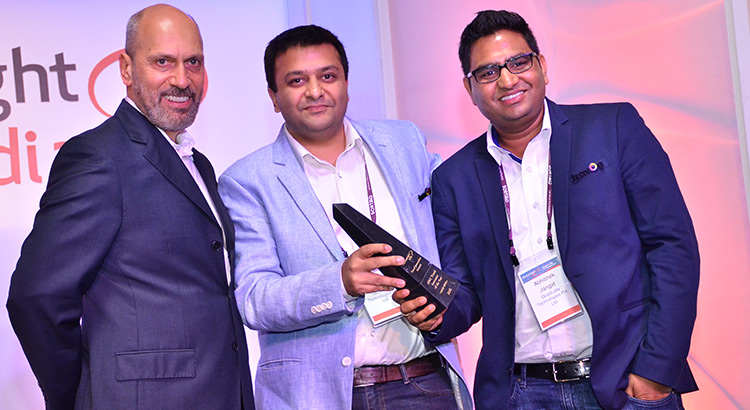 'Travog', a Travel & Expense management tool, wins "Asia Pacific Travel Innovator of the Year" award at Phocuswright India 2016
Travog, a revolutionary Travel ; Expense management tool by QuadLabs Technologies has been recognized as the 'Asia Pacific Travel Innovator of the Year' for the year 2016. The honor was awarded at 'The Travel Innovation Summit' organized by Phocuswright and held at The Leela Ambience Gurgaon, India on Thursday, 21st April 2016.
Travel Innovation summit is organized along with the main Phocuswright conference and is long-known for bringing the travel industry's latest wave of innovation to the stage. Each innovator, along with Travog, had 10 minutes on stage to pitch, demonstrate and face off with the Phocuswright Dragons— a collection of the industry's most informed insiders who have seen and heard it all. The Dragons push and probe the demonstrators, in search of an innovation with the potential to transform Asia's travel landscape.
"Asia Pacific Travel Innovator of the Year award is the validation of our innovation. It reinforced our belief in innovation and investment in the next generation technology." said Mr. Gaurav Chiripal, CEO of QuadLabs Technologies.
Phocuswright is the travel industry research authority on how travelers, suppliers and intermediaries connect. Independent, rigorous and unbiased, Phocuswright fosters smart strategic planning, tactical decision-making and organizational effectiveness. To complement its primary research in North and Latin America, Europe and Asia, Phocuswright produces several high-profile conferences in the United States, Europe ; Asia.
QuadLabs, a world leader in travel technology.  Launched travog.com in the market yearly this year. Travog is the first ever on-demand Travel ; Expense management system for businesses with pre-book policy compliant system with an internal self-booking tool. The USP is the integrated Travel marketplace of content procured from global travel suppliers and TMCs. The internal engine connects to various GDSs, Supplier system and content providers to provide comprehensive set of travel deals and corporate fares in the single system. Travog mobile app works as a travel companion providing various location based services around the business travel needs. It helps to manage the multitude of hierarchy and workflow within the businesses, at the same time ensuring all their travel related needs are fulfilled through a one-stop solution. System also provides expense management to business travelers to manage post trip expense and the same can be submitted to concerned department for approval.
QuadLabs Technologies headquartered in India with offices in Brazil and UAE. Our products are especially designed to meet the demands of the ever-evolving travel industry and providing the travel companies with a faster way to automate their business. Our product is a proven platform with several deployments across Europe, Asia, Middle East, Australia, Africa and Latin America and is highly adaptable to the global market.
https://www.youtube.com/watch?v=GuiYMTqWIIY=PLQKpBY3IbsMpZhc50VYsARZn80_PVmMFo
;