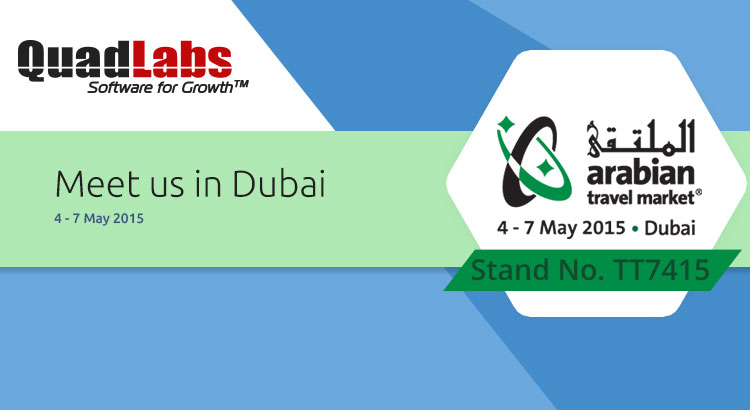 QuadLabs geared up for Arabian Travel Market 2015
QuadLabs Technologies, the leading brand name in the industry of travel technology solutions is geared up to participate in the mighty Arabian Travel Market 2015 which is scheduled to be held in Dubai International Convention and Exhibition Centre, Dubai from 4th May 2015 to 7th May 2015.
The world being becoming more economically stronger as the days pass has in the due course fueled up the tourism industry. Tourism industry is the industry which is at its peak this time and so has eventfully provided travel companies with a golden opportunity to earn more than usual and serve people benevolently and presenting them the finest places on earth more graciously.
Arabian Travel Market 2015
Keeping the current state of travel industry into picture, Arabian Travel Market 2015 promises to be bigger than ever before with more resolutions and opportunities to be offered to travel technology companies across borders. The mainstream headline of Arabian Travel Market this year is Family Travel. Not to forget, the potent Travel Market will also focus on other verticals like Travel Technology, Business Travel, Luxury and Wellness. The Arabian Travel Market 2015 have outlined some other major attributes on which it would throwing light on like exploring new geographical locations of the world and also other areas of the travel industry. The Travel Market has expanded genially as it covers the Hall 6 this time and divides the floor plan into different zones and colors.
QuadLabs Technologies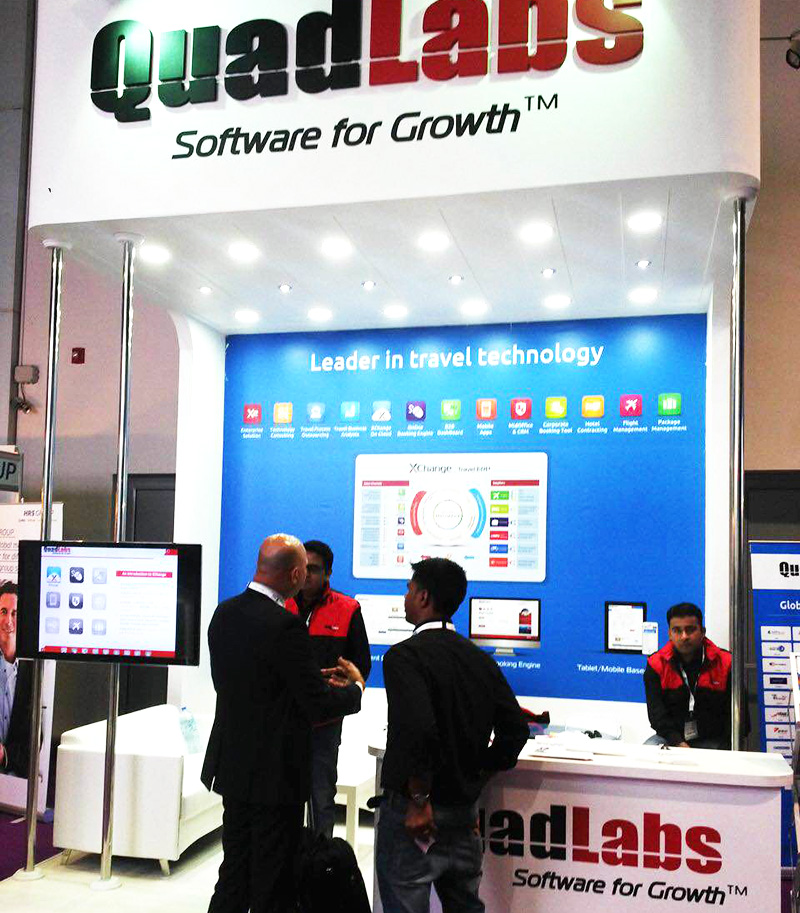 QuadLabs Technologies is premier in providing superlative travel technology solutions with its strenuous efforts. Based out in Dubai and India, QuadLabs Technologies have undoubtedly offered reliable travel solutions in the shortest time possible to the travel companies who wish to automate their travel business outstandingly and fulfill their customer needs. Serving to the core idea of B2B, QuadLabs Technologies have surpassed its own set records through its intensive inventions of futuristic products like:
XCHANGE- On Cloud ERP
XCHANGE- Online Booking Engine
Contract Management and Distribution
Mobile Travel App – BOOKQ
Package Management and Distribution
Corporate Booking Tool
XCHANGE-B2B Dashboard
XCHANGE-Mid Office System
Flight Inventory Management System
These products have been designed after brainstorming the types of requirements in the travel industry and also surveying out the obstacles faced by the travel industry hence leading them to miss out certain deliverable.
QuadLabs Technologies majorly focuses on following categories:
Technology Consulting
Travel Business Analysts
Xchange- On Cloud ERP
Enterprise Solution
Travel Process Outsourcing
QuadLabs Technologies through its rich experience and cultivated reputation in the travel industry have tie ups with several other pioneer organizations like American Express, HDFC Bank, Spicejet, Indigo, Citi Bank, Axis Bank, RBS, Travel Fusion, CyberSource, QNB, Interswitch, JacTravel, Amadeus, Sabre- Travel Network, A2B Transfers.com, Restel, Expedia, MikiTravel, White Sands- Tours and Travel and other more renowned companies.
The Arabian Travel Market 2015 is indeed a unique program which would help QuadLabs Technologies develop a strong presence in the travel technology industry.
Thank You for your precious time. If you found it interesting, Subscribe Now! To get regular blog updates. If you are looking for assistance related to Travel Technology Solutions, Contact Us Now