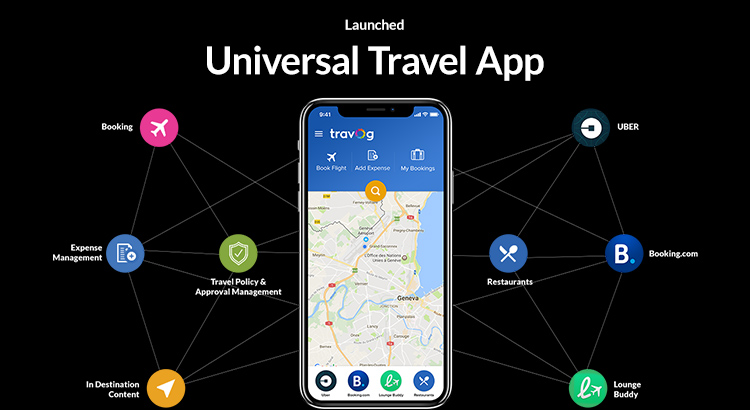 QuadLabs launched Universal Travel App
During ATM Dubai 2018, QuadLabs launched its Universal Travel App – "Travog". Travog empowers corporate as well as Leisure travelers to book their travel from the same platform and provides multitudes of options from various suppliers and TMCs across the world.
Travog is a unique travel app which provides both business and leisure customers to book Flight, Hotel, in-destination content like Uber, Lounges, Meeting rooms, Restaurants, etc. from the suppliers of their choice. Travelers now do not need to go to various apps provided by their TMCs, OTAs, Airlines or service providers. Travog not only let the user to book their travel but also consolidates all purchases in an expense reports for each trip.
This universal travel app also validates the expense policies for corporate travel and sends notifications to manage approval work flow.
Travog is an extension to the current award winning web platform of QuadLabs launched last year with the similar name. It connects with QuadLabs global profiling system in the backend which recognizes the traveler and provide the content based on his company policy, preferences and the past buying behavior. It makes sure that traveler is choosing the right option as per the company policy and consolidates all purchases made by the company.
The Travog is also tightly integrated with QuadLabs propriety booking engine which sources content from multiple GDSs, Low cost airlines, NDC direct connect and the global consolidators. This can be configured as per the need of corporate customer and their fulfillment partner. This app is available on both iOS and Android platform.
"QuadLabs innovation lab is releasing lot of innovative products which is solving the pain of the traveler and the industry. Travog is one of the product from our innovation lab which is helping business traveler to book multiple services in a single platform into company policy and his own preferences" said by Mr. Gaurav Chiripal, CEO – QuadLabs Technologies.