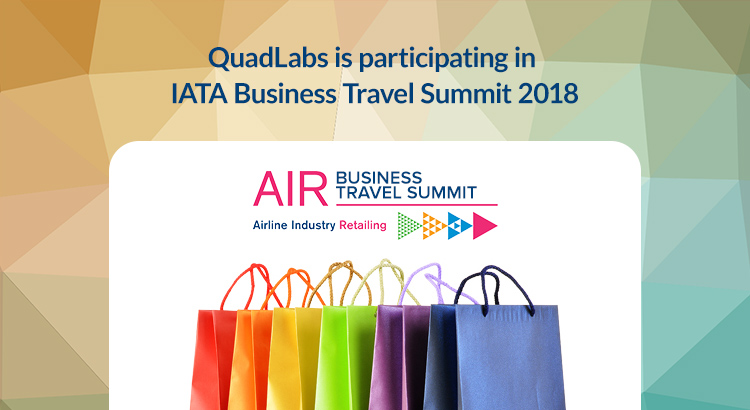 QuadLabs is participating in IATA Business Travel Summit 2018
QuadLabs, a premier leader in travel technology confirms its participation at the IATA Business Travel Summit 2018 scheduled to be held at IATA Geneva Conference Center in Geneva, Switzerland on June 13th and 14th, 2018.
IATA- Business Travel Summit 2018
IATA will host the Business Travel Summit which brings over 100 representatives from a spectrum of Travel Buyers, TMCs, Airlines and IT providers. With the new guidelines and NDC perspectives from carriers, TMCs and GDS's, it's clear that the industry is moving towards implementation of NDC content in 2018. Industry cooperation across the business travel value chain is essential and more discussions on NDC are expected. The IATA Business Travel Summit helps in understanding latest insights from the industry value chain – airlines, IT providers, TMCs and Corporates – which will help in adoption of NDC guidelines.
QuadLabs Technologies will talk on "How Travog will help in transforming business travel ecosystem, NDC Hybrid Content Engine, Mid-Office system for TMC's." Travog is first ever cloud based online booking environment for businesses, their employees and partner travel agencies. Its USP is the integrated travel marketplace of content procured from global travel suppliers and TMCs. It help to manage the profile information and ensure consistency in compliance with your travel policy, has a fast secure and easy booking process along with the approval system. Deal codes and corporate codes can easily be managed. System also provides expense management to business travelers to manage post trip expense and the same can be submitted to the concerned department for approval as per the workflow.
QuadLabs is a premier technology solution provider with a focus on delivering world-class technology products to the travel industry and is headquartered in India with sales offices in Brazil and UAE. We specialize in intelligent solutions which have a high degree of adaptability to distinct business processes within the travel domain. Our product is a proven platform with several deployments across Europe, Asia, Middle East, Australia, Africa and Latin America and is highly adapted by each market.